Overview
Enterprise Hub Member and 10th Anniversary champion, Dr Ifeyinwa Rita Kanu, developed IntelliDigest with the support of Enterprise Fellowships in 2018.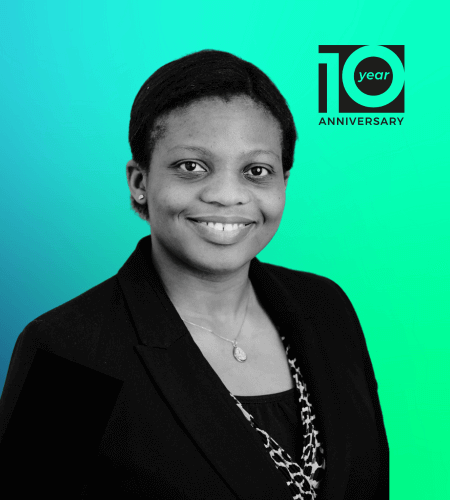 Case Study
Name: Dr Ifeyinwa Rita Kanu
Role: Founder and CEO
Enterprise: IntelliDigest 
Location: Edinburgh 
Launch date: 2016
What does IntelliDigest do?
The challenge:
Globally, we waste a third of the food we produce. This act of wasting food does not only obstructs society's net-zero ambitions, but also costs consumers and business trillions.
The solution:
We empower consumers and businesses to take charge of their food consumption and food waste in a way that contribute to a circular economy. Our robotic bio-upcycler, iDigest, can be used in the home, office, hospitality venues - anywhere food is handled to enhance the recovery of bio-nutrients from food waste. The recovered bio-nutrient is used in local food production and made available on the world food tracker for local consumers.
Milestone achievements
A key milestone moment was when Marriott Hotels, Radisson Hotels and the InterContinental Hotels Group signed up for paid trials of IntelliDigest's iDigest. We were pleased to engage with them to understand the challenges they face in handling food. We developed the world food tracker to help them reduce the edible food waste and introduced the iDigest unit for recovering bio-nutrients from inedible food waste.
Using my platform to engage the public and raise awareness on food system sustainability challenges and solutions means a lot to me. The "Plan to Save" campaign kicked off in 2021 to encourage consumers to plan their food consumption so that farmers can plan and adopt more sustainable practice to produce food. The Global AgriFood TechPreneur Programme kicked off in 2022 to support young graduates to address the food system challenges in their countries.
Finally, being recognised by my industry through award nominations has of course been an important achievement. From being nominated in the top 50 women in Engineering under 35 in UK in 2017, to winning the European Institute of Technology Climate KIC Award in 2018, Selected and participated in Wayra/University of Edinburgh AI BlockChain Accelerator programme in 2019, European Institute of Technology Food Accelerator Network Award in 2020 and Google Cloud Start Up programme in 2022 has helped raise IntelliDigest's profile.
What challenges have you faced as an entrepreneur?
I've always had a great love for nature, and a habit of creating things from scraps around me from a young age. I am inspired by the impact of our solutions in the lives of people across the world. Thanks to advances in technology, the potential to make good food available to all, such that no child goes to bed hungry is a vision that I am committed to achieve. As an entrepreneur, I see opportunities and not challenges.
"I see opportunities not challenges"
How has the Enterprise Hub supported you?
As an Enterprise Fellow of the Royal Academy of Engineering, I value the programme funding but, more importantly, the network and continued support from the Enterprise Hub team has been excellent.
What are your future ambitions for IntelliDigest?
My ambition for IntelliDigest is driven by a vision of a world where no child goes to bed hungry. Our vision drives our mission to empower global food sustainability through technology innovation and capacity building.
Ultimately, we aim to encourage global circular food systems, ensuring they are resilient and capable of feeding the world's growing population.
Together, we can accelerate engineering and technology innovation and help transform UK businesses to create real socia…
We work with a range of engineering and technology entrepreneurs to help them startup, spinout and scale-up. As a chari…