Overview
Enterprise Hub Member and 10th Anniversary champion, Dr Vicky De Groof, scaled Holiferm with the support of the Shott Scale Up Accelerator in 2022.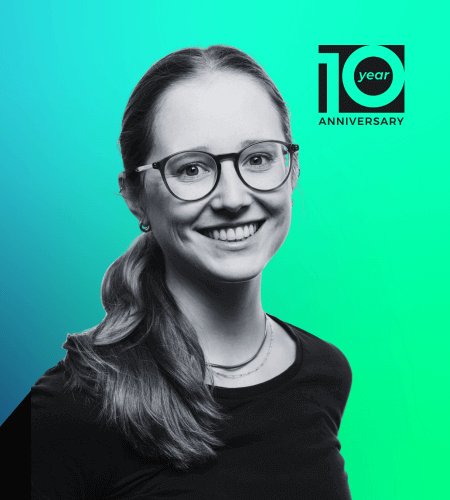 Case Study
Name: Dr Vicky De Groof
Role: Chief Technology Officer  
Enterprise: Holiferm
Location: Manchester
Launch date: 2018
What does Holiferm do?
The challenge
Petrochemicals cannot remain part of the fabric of our societies. Found across a vast range of modern products, they account for 12% of global oil demand - a share that is only expected to increase. The implementation of sustainable bio-based alternatives is often hindered due to high manufacturing costs. 
The solution
We are challenging convention by developing commercially viable manufacturing processes for renewable and sustainable alternatives to petrochemicals. By scaling and implementing the processes we develop, we can accelerate the transition to a bio-based economy.
Milestone achievements
Being able to construct a new R&D lab and pilot plant after securing investment from Icos Capital's ICF III fund was a huge milestone moment, allowing us to scale our innovative manufacturing process for our first products substantially.
Similarly, receiving a combined investment of $9.5 million from Rhapsody Venture Partners and Clean Growth Fund in 2021 showed significant progress toward our goal of transitioning to a bio-based economy, given they're known for supporting sustainable technology development
But one of the biggest achievements for our business has been opening our first commercial plant to produce our first product, a biosurfactant made from fermentation that serves as key ingredients for home and personal care products, in February 2023.
What challenges have you faced as an entrepreneur?
Whether it's leading my team, driving growth or handling the unexpected, being part of a leadership team is a continual learning process – which takes some getting used to. I feel like I'll always be figuring out how I can contribute to the leadership team and build of a growing spinout company.  
"I feel like I'll always be figuring out how I can contribute to the leadership team and build of a growing spinout company."
How has the Enterprise Hub supported you?
I set out to grow as a leader to ultimately grow the business, and I certainly feel the Shott Scale Up Accelerator programme has achieved that! I feel more confident, have been given a range of practical and helpful tools and met some lovely people on the way. 
What are your future ambitions for Holiferm?
We want to challenge convention: convincing the chemical market to move away from what they've always known - petroleum-based chemicals. We are starting with the surfactant industry – but we won't stop there. We want to encourage the whole industry– to use innovative biobased sustainable alternatives. 
Accessibility will also always be key to our future growth – we want to ensure green, sustainable products are affordable to all.
Together, we can accelerate engineering and technology innovation and help transform UK businesses to create real socia…
We work with a range of engineering and technology entrepreneurs to help them startup, spinout and scale-up. As a chari…