Overview
Enterprise Hub Member and 10th Anniversary champion, Dr Youmna Mouhamad, launched Nyfasi, with the support of Enterprise Fellowships in 2020.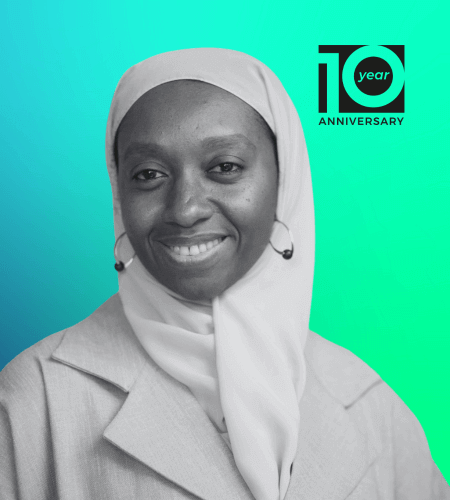 Case Study
Name: Dr Youmna Mouhamad
Role: Founder and CEO  
Enterprise: Nyfasi
Location: Port Talbot
Launch date: 2018
What does Nyfasi do?
The challenge
The application of a hair treatments on textured hair is painful and can take more than 50 minutes. The process requires applying and distributing the product manually and then detangle with a comb. Often children cry and women dread the process.
The solution
Nyfasi's patented and celebrity-endorsed technology: the Deluxe Detangler, enables the application of hair treatments while detangling. The local lubrication facilitates detangling, saves up to 30 minutes and offers a joyful hair care experience.
Milestone achievements
As a scientist, the Deluxe Detangler is the most rewarding innovation I have ever worked on. It feels amazing to make a difference for a group of women whose needs have often been overlooked. What brings me more joy is having developed a community of women.
"My dream is to empower women and children with texture hair to love their hair by changing their haircare experience."
What challenges have you faced as an entrepreneur?
For me the biggest challenge was understanding my purpose, my why and defining what success looks for me. Understanding these specific questions makes it easier for me sustain the challenges that come with entrepreneurship and empowers me to not put my self-worth on the success of the business.
"Finding my purpose, my why and my definition of success"
How has the Enterprise Hub supported you?
I've really enjoyed the way the Enterprise Hub programme was designed. I found the content regarding finance, marketing and legal so useful. I also liked that the focus was not just on the Enterprise Fellowships programme itself, but on continual support that has been very, very impactful in the long run.
Having a coach, but also a business mentor, who had much more experience and was able to reflect on what the business meant to me and defining its value, has also been really important to me. The support I got from them is not necessarily conventional, but it's exactly what I needed. I realise now that when you start a business, it's really important to ask yourself "why are you doing exactly what you're doing?", because it really enables you as a leader, even if at the beginning you don't have a team and start wondering things like "what do you want to bring to your customer?", "what are your values", "what do you want to bring to where you are based?" (in this case, what I want to bring to Wales).
Finally, I am really excited about having a Hub in Wales, because it means that my network of support is just going to get bigger. While lots of the Fellows that I connected with are fantastic individuals, they are all based in London, and when they meet up to support one another, or to just connect and speak about the different challenge they have, it's quite a long way to come from Swansea.
What are your future ambitions for Nyfasi?
Under the slogan "Nyfasi: the joy of natural hair", we aim to redefine hair care as a joyful self-care moment when women connect with themselves and others. Our ambition is to continue to innovate in the hair industry by putting the community at the centre. Whether for the next version of the Deluxe Detangler, or other products, we will engage with our customers to develop quality, effective products with an excellent user experience. Our purpose is to contribute to building the next generation by donating 5% of our profit to coach young individuals.
Together, we can accelerate engineering and technology innovation and help transform UK businesses to create real socia…
We work with a range of engineering and technology entrepreneurs to help them startup, spinout and scale-up. As a chari…