As a national Academy, the Royal Academy of Engineering is in a position to provide specialist support for engineering and technology startups and scaleups. The Northern Ireland Hub is the dedicated contact point for innovation support from the Academy.
The Enterprise Hub Northern Ireland connects innovators, researchers and Fellows based in Northern Ireland to the wealth of entrepreneurship funding, training and support offered by the Academy. The creation of its first regional Enterprise Hub in Belfast in 2020 marked an exciting step in the Academy's mission to develop a truly national resource, fully accessible and available to ambitious, high-potential entrepreneurs across the UK. With this vision, the Northern Ireland Hub provides opportunities for networking, mentoring and learning that strengthen individuals, enterprises and the regional ecosystem.
Meet our Northern Ireland Hub Members
What can the Enterprise Hub in Northern Ireland do for you?
Strengthening the regional innovation ecosystem
Led by Gillian Gregg and her team, the Enterprise Hub Northern Ireland was established to:
advise innovators from engineering and tech SMEs on how to access the Enterprise Hub's training and funding
provide a central point of contact within Northern Ireland to deliver Enterprise Hub programmes in the region
build connections and take a leading role in influencing the regional engineering policy and funding ecosystem
host multiple series of events in Northern Ireland, including talks by established entrepreneurs in engineering and tech sectors, pitching events, and training sessions on business and innovation topics
promote opportunities for peer-to-peer networking
engage Northern Ireland engineers with recruitment, skills and diversity and inclusion activities from the Academy.
Other Academy support in the region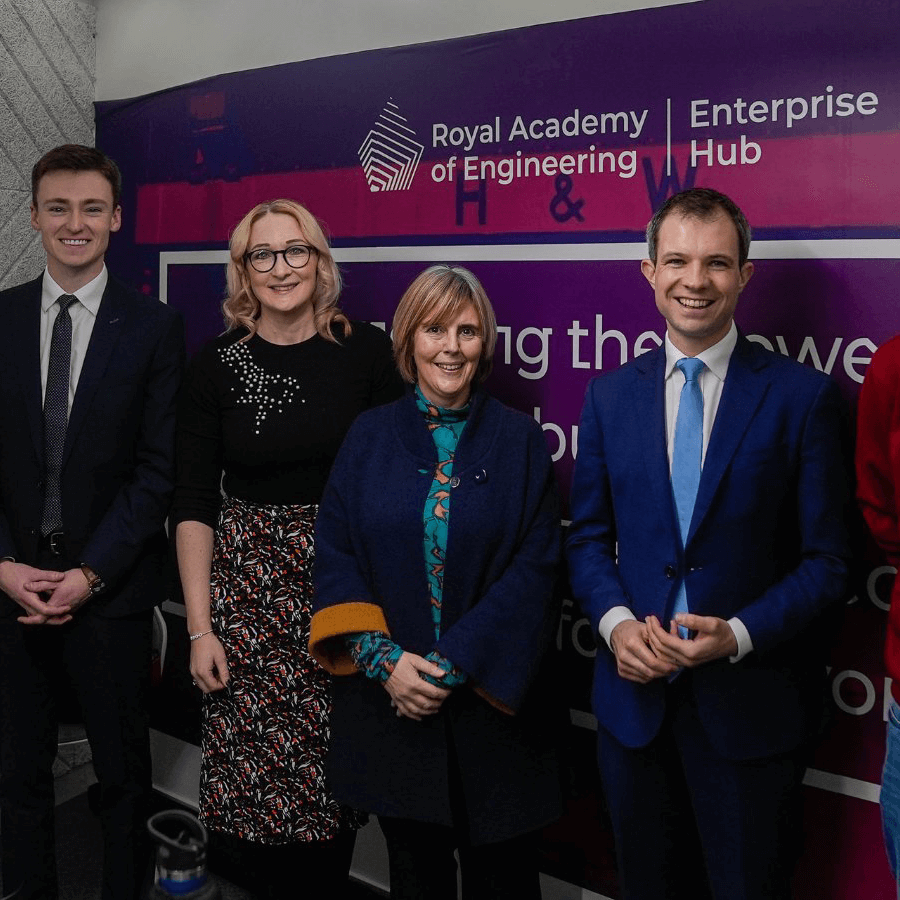 The Academy also provides academic support for UK-based early-career to senior engineering researchers, as well as accolades to recognise exceptional achievements in the engineering sector. Get in touch with the Hub to learn more about Research Fellowships, Research Chairs and Senior Research Fellowships, or the Royal Academy of Engineering's Prizes and Medals. In addition, the Academy's Northern Ireland Education programme manager, Bronagh Ward, also based in the Hub, is working with primary, secondary and FE clusters across Northern Ireland. She delivers an Engineering Education pilot funded by the Department for the Economy (NI), to encourage more young people to pursue a future in engineering and technology.
"There is a great entrepreneurial culture in Northern Ireland with strong focus on engineering and technology, building on its rich innovation heritage. The Enterprise Hub can add value here by providing specialist support to entrepreneurs and giving them access to the Royal Academy of Engineering's network of world-leading engineers. We want to help this vibrant start-up community to grow."
David Cleevely CBE FREng, serial entrepreneur and former Chair of the Royal Academy of Engineering Enterprise Committee
Previous
Next
Enterprise Hub Northern Ireland team
In collaboration with local partner, Invest NI, the Academy has appointed Gillian Gregg, as Head of Regional Engagement. Gillian Gregg leads the Enterprise Hub's engagement strategy in the UK's nations and regions outside London. Gillian is based in Belfast at the Enterprise Hub Northern Ireland, supported by Daniel Lowe.
About Gillian
Having started her career in the private sector, she has worked in R&D&I economic policy research across both the public and university sectors for over 20 years. With a strong focus on engineering-led growth, Gillian's experience working with the Advanced Manufacturing, Materials and Engineering sector across Northern Ireland provides the Hub with particular insight from across a wide range of regional stakeholder perspectives.
Connect with Gillian on LinkedIn or Twitter.
About Daniel
Daniel supports Gillian by managing the day-to-day activities of the Enterprise Hub Northern Ireland. He works identify and develop activities that support the next generation of engineering entrepreneurs, and connect them to Academy programmes.
Connect with Daniel on LinkedIn.
How to get here
The Enterprise Hub Northern Ireland is based in the Ormeau Baths, Belfast. Gillian and Daniel are available for virtual or in-person meetings hosted at The Ormeau Baths, or visits throughout Northern Ireland.
Address:
The Ormeau Baths
18 Ormeau Avenue
Belfast BT2 8HS
Get directions by car or public transport. For further access enquiries, please check the Ormeau Baths website or contact members@ormeaubaths.com in advance.