Overview
Enterprise Hub Member and 10th Anniversary champion, Dr Atif Syed launched WootZano, with the support of Enterprise Fellowships in 2018.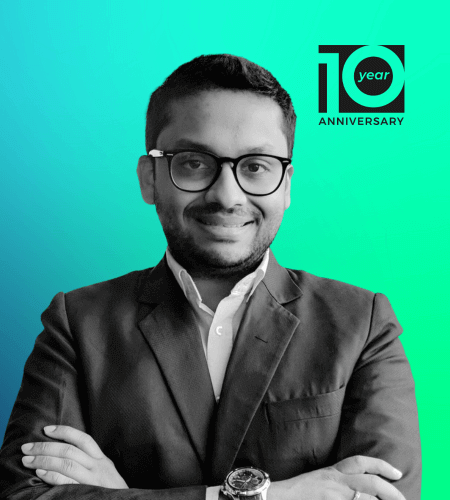 Case Study
Name: Dr Atif Syed
Role: Founder and CEO  
Enterprise: WootZano
Location: Sedgefield  
Launch date: 2018
What does WootZano do?
The challenge
A consistent and reliable workforce will be critical to the future of the agricultural industry and our food supply.
The solution
We are solving the post-harvest labour shortage dilemma with our robotic system, Avarai.  Integrated with the highlight sensitive electronic skin, WootZkin, it enables our robots to feel as humans do. This means they can complete dextrous and delicate jobs previously only available to humans – like soft produce packing addressing the human labour shortage.
Milestone achievements
The funding we received in 2018, from both Scottish Edge and Innovate UK, was a huge moment for us. It was essential for scaling up and developing our WootZkin, which was used in robotic applications for extreme conditions such as the repair of wind turbine blades.  
The highly sensitive skin enabled robotic systems to excel in areas that had previously relied on human senses, and this led us to develop our own robotic system to address a much-needed market, post-harvest. This has since become the first commercially available system and works with high value produce such as grapes and vine tomatoes.   
More recently, we're proud to be part of DEFRA's Agri-OpenCore project which aims to tackle labour shortages in the UK's horticulture industry. Using our in-depth knowledge in robotics, we are collaborating with leading academics and robotics company to provide an additional solution to the food supply chain, with the aim of alleviating the labour struggle further. Avarai is already able to reduce human labour requirement by 60% and delivers an immediate ROI by matching the human cost of packing fresh produce. By developing automated solutions throughout the complex food supply chain, we will be able to reduce food waste and increase production efficiency, which in turn, could also reduce food cost.  
But  personally, winning the Royal Academy of Engineering's Princess Royal Silver Medal was an honour as it recognises the important role that WootZkin plays in enabling our  system to delicately handle soft produce. The award is a testament to the entire team's amazing work and collaborative efforts.
What challenges have you faced as an entrepreneur?
Developing a complete robotic system from the ground up has meant facing many significant challenges. But thanks to our brilliant engineering team, we've been able to develop unique solutions that have made it possible to make our product invaluable to the fresh produce supply chain.
"Developing a complete robotic system from the ground up certainly has its challenges."
How has the Enterprise Hub supported you?
The Enterprise Hub provides entrepreneurs with the resources and support needed to help get their projects off the ground and into the playing field. There are many amazing innovations happening throughout the UK and to have the support of Royal Academy of Engineering can help draw attention to new talent to give them a headstart.
What are your future ambitions for WootZano?
The demand for our system has been huge. In the following months, Wootzano will begin its installation into the US, with other parts of the world to follow. Currently, we specialise in complex fruits such as grapes and vine tomatoes, but the versatility of our robotic hand enables our system to be used in a wide variety of other fresh produce packing. The market, until now, has been largely untouched. But as the population continues to grow, food security and sustainable food production is at the core of all our future plans.
Together, we can accelerate engineering and technology innovation and help transform UK businesses to create real socia…
We work with a range of engineering and technology entrepreneurs to help them startup, spinout and scale-up. As a chari…