Overview
Enterprise Hub Member and 10th Anniversary champion, Dr Daniel Jamieson, scaled Biorelate with the support of the SME Leaders programme in 2021.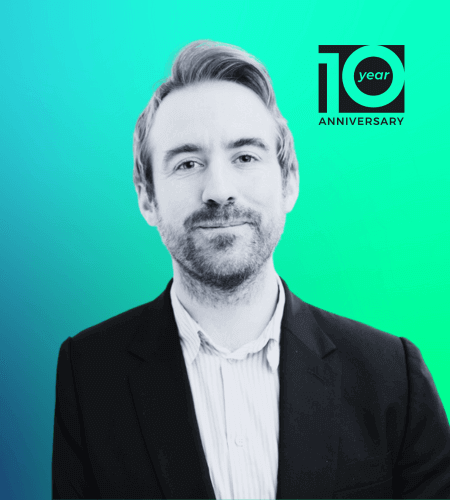 Case Study
Name: Dr Daniel Jamieson
Role: CEO and Founder  
Enterprise: Biorelate 
Location: Manchester 
Launch date: 2014
What does Biorelate do?
The challenge
The main challenge that Biorelate seeks to solve is the rapid growth and dispersion of biomedical information. The sheer volume and complexity of new biomedical research being published can be overwhelming for scientists and other stakeholders to keep up with. This information explosion can lead to key insights being missed, slowed drug discovery processes, and an overall inefficiency in advancing medical research.
The solution
We use artificial intelligence (AI) to automatically curate biomedical knowledge, specifically focusing on complex and unstructured textual data found in research articles, patents, and clinical trial databases, among other sources."
Milestone achievements
We've raised over $10 million in funding and developed Galactic AI™ - a platform that can automatically curate some of the most difficult to curate data, such as cause-and-effect. Customers from many of the world's leading biopharma companies are now using our platform and we've been able to help them identify countless new drug opportunities as well as helping them understand the real potential of their existing drug candidates. There's nothing more satisfying than being able to solve customer problems.
What challenges have you faced as an entrepreneur?
I started Biorelate as a solo founder in the middle of my PhD with no prior experience of entrepreneurship. It's been an incredibly difficult journey turning an interesting idea into a meaningful scalable business. Each day has brough its challenges, but if I were to pick out the key ones they would be as follows:

Raising Capital: One of the first challenges I faced was securing funding. Investors often want to see a proven business model and a clear path to profitability, which isn't always possible in the early stages of a tech startup like Biorelate.
Building a Team: Finding the right individuals who are not only skilled but also share the company's vision and culture has been a challenge. Balancing hiring between growth and budget has also been a tight rope walk.
Market Adoption: Given that we are in a niche and highly specialized field, convincing clients to trust and adopt our AI-driven approach in an industry that relies heavily on traditional methods was and still is a challenge.
Product Development: Building an AI-based product that accurately analyzes and curates biomedical information was not a straightforward task. It required significant investment, not just in terms of finances, but also time and effort.
Balancing Business and Technical Aspects: As a founder with a technical background, one of the challenges was understanding and managing the business side of things, including sales, marketing, finance, and operations. This turned out to be one of the more enjoyable aspects for me and has become as rewarding as the technical side.
What are your future ambitions for Biorelate
Our future ambitions for Biorelate are manifold. We aim to continue pioneering the use of AI in biomedical research and drug discovery. 
Firstly, we intend to continue refining and expanding our Galactic AI™ platform. We hope to reach a point where we can curate and analyze biomedical text data at an even greater scale and accuracy. Our goal is to make this vast amount of knowledge readily accessible and usable for researchers around the world. 
We also aim to expand our global footprint, serving more clients and providing more comprehensive coverage of biomedical data. Our goal is to be a leading force in this space and a go-to solution for researchers and organizations who want to make the most of the wealth of biomedical knowledge that's out there. 
Finally, we're excited about exploring potential new applications for our technology. This could include other areas of healthcare and life sciences where the power of AI-driven text analytics could prove transformative
Together, we can accelerate engineering and technology innovation and help transform UK businesses to create real socia…
We work with a range of engineering and technology entrepreneurs to help them startup, spinout and scale-up. As a chari…