Overview
Enterprise Hub Member and 10th Anniversary champion, Prof Cathy Craig, developed her spinout, INCISIV, with the support of Enterprise Fellowships in 2021.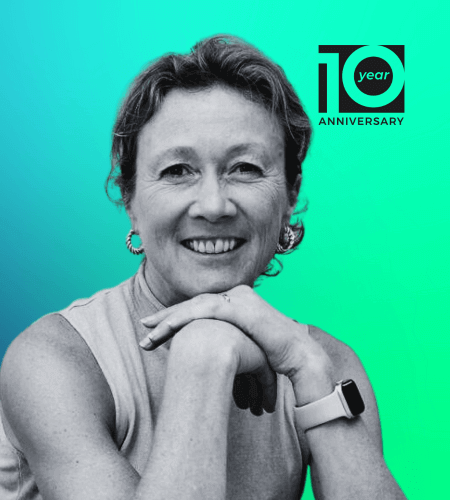 Case Study
Name: Prof Cathy Craig
Role: Co-Founder and CEO  
Enterprise: INCISIV
Location: Belfast 
Launch date: 2018
What does INCISIV do?
With a strong focus on physical fitness, the top two inches often get left behind. At INCISIV we have developed robust Virtual Reality solutions that measure and improve a person's brain's fitness through the power of game play. Whether you're a buddying young football player wanting to sharpen your reflexes or a player returning to competition quickly and safely after a concussion, our technology can help.
Milestone achievements
The take-up from the sports community has been phenomenal. With partnerships with Italian Rugby for the 2023 Rugby World Cup and all ten EIHL professional ice hockey teams in the UK seeing how our technology is making a real difference to player welfare in elite sport has been incredibly rewarding. However, an interesting twist in our story has been the sales of CleanSheet (our VR goalkeeping software) direct to the consumer on Meta's AppLab. We've been blown away by how popular it is and how well it's been received by the community. This unexpected sales success has helped drive a ten-fold increase in our revenues for 2022/23.
What challenges have you faced as an entrepreneur?
I decided to leave a well-paid, secure job at Queen's University Belfast, where I was both Professor of Psychology and Dean for Postgraduate Education, to start a company in my late forties. It was terrifying and exciting in equal measures. In the early days I often felt out of my depth, but joining the Enterprise Hub has completely changed all that and I have absolutely no regrets leaving my job to start a company. I'd advise others who have that desire to get their research out of the lab so it makes a difference to people's lives to just do it. It's not an easy choice but one that is very rewarding. Apply for the fellowship to help you - it's a great way support on what will undoubtedly be a difficult journey.
Another key challenge I have faced in the startup world is being female. It is a well known fact that female founders receive less than 5% of all VC funding. I know I have felt the brunt of it making countless pitches and always receiving a resounding no! But, we as female founders can't just complain about it. We have to show VCs that investing in female founders is smart and will generate strong returns.
At INCISIV we have bootstrapped the business from the beginning and I am pleased to say that we are now making significant revenues which we are now reinvesting back into our own business to allow us to scale and grow. In fact, I attribute a lot of our success to the Enterprise Hub's unrivalled network. The number of outstanding RAE fellows, mentors and coaches who have given me incredible advice has definitely helped me navigate the start-up landscape and find a path that works for us.
In fact, I often say every day is a school day - I'm constantly learning new things about business but also about myself. My father once told me: "in life, there are no dress rehearsals – make the most of what you've got", and I can safely say that starting a business is the most difficult yet rewarding thing I have ever done.
"I am continually learning new things and am constantly out of my depth, but that's how you develop as a person"
How has the Enterprise Hub supported you?
Coming from an academic background, commercialisation and thinking in a business-like way are very alien. The Enterprise Fellowship programme recognises this and ensures the fantastic one-to-one coaching and mentoring is tailored towards our needs. It has really helped me understand and, most importantly, become comfortable with critical aspects of the business such as sales.
I can safely say INCISIV would not be where it is today if I hadn't secured a Royal Academy of Engineering Enterprise Fellowship – the quality of training, mentorship and support I have received has helped us elevate our business to a whole new level.
What are your future ambitions for INCISIV?
We've learnt so much testing our product directly within the buyer community. We've now managed to secure some lucrative contracts with the Elite Ice Hockey League and the Italian Rugby Federation. We now need to see how we can bring our products to the masses.
We've already had great success pivoting CleanSheet, our goalkeeping simulator, from a B2B product where we sold to professional football teams to a product we sell direct to the conusmer who wants to train in their own home. By driving a creative marketing campaign through TikTok we've seen sales surge this last year. We've now caught the attention of Meta and have got exciting plans to release a new version of CleanSheet on the Meta Store in October to coincide with the launch of their new VR headset.
With Apple now entering the VR/AR space with their Vision Pro it's just got a whole lot more exciting. We'd now like to bring our brain fitness monitoring and training software to the mass market too. I'm a great believer that technology should be inclusive. By focusing more on the B2C side of the business we can ensure more people across the world can benefit from our technology and not limit it to elite sports men and women.
Together, we can accelerate engineering and technology innovation and help transform UK businesses to create real socia…
We work with a range of engineering and technology entrepreneurs to help them startup, spinout and scale-up. As a chari…