Overview
Enterprise Hub Member and 10th Anniversary champion, Rodrigo Garcia Gonzalez scaled Notpla, with the support of the Shott Scale Up Accelerator in 2022.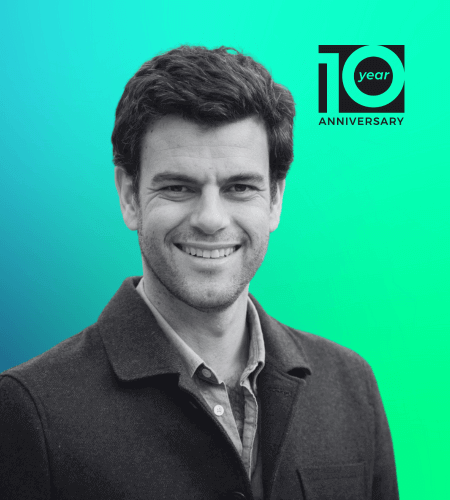 Case Study
Name: Rodrigo Garcia Gonzalez
Role: Co-Founder and co-CEO
Enterprise: Notpla
Location: London
Launch date: 2014
What does Notpla do?
The challenge
Globally, consumption of plastic has increased from 5 million in the 1950s, to nearly 100 million tonnes today. We cannot continue to consume single-use plastics at this unsustainable rate if we are to reduce waste and meet net-zero targets.
The solution
We are committed to slashing the world's plastic waste by using seaweed to create a compostable, plant-based replacement for the single-use plastic layer in cardboard takeaway food boxes.
Milestone achievements
From UEFA using Notpla for all food vendors at the Women's Euro Finals, to our partnership with JustEatTakeaway.com, the demand from high-profile brands looking to cut their plastic waste shows no sign of stopping and we're pleased to be continuously hitting milestones. Since launching, official support and awards have been particularly key milestones for us: from the World Technology Award by Fortune and start-up of the year from WIRED, to winning the Earthshot Prize in 2022. Another game-changing moment for us was launching Notpla Paper – the first sustainable paper made with seaweed by-product, previously considered waste and thrown into landfills.
What challenges have you faced as an entrepreneur?
My role is always evolving and the challenges I'm facing are growing rapidly in complexity as our employee base expands and I must make tough strategic decisions. I'll admit I'm pushing the limits of my skillset, which is where the Shott Scale Up Accelerator has been invaluable. Another key challenge has been that as a co-CEO, I don't have a line manager. Luckily, the Shott Scale Up Accelerator offers mentorship programmes so I can share my challenges and doubts with an expert.
"I'll admit I'm always pushing the limits of my skillset."
How has the Enterprise Hub supported you?
I really appreciate the support and the learnings gained through the Shott Scale Up Accelerator programme. It has provided me with great tools and techniques to lead high-performing teams capable of achieving success.
What are your future ambitions for Notpla?
Global expansion is certainly on the cards and I aspire to having over 100 employees. But maintaining the innovative, agile spirit of a start-up will always be my priority. Similarly, to truly make an impact, expand our product range and see our innovations come to life, raising another round of funding over the next 14 months will be essential.
Together, we can accelerate engineering and technology innovation and help transform UK businesses to create real socia…
We work with a range of engineering and technology entrepreneurs to help them startup, spinout and scale-up. As a chari…