Overview
Enterprise Hub Member and 10th Anniversary champion, Soo-Min (Lucy) Jung, scaled Charco Neurotech, with the support of the Shott Scale Up Accelerator in 2022.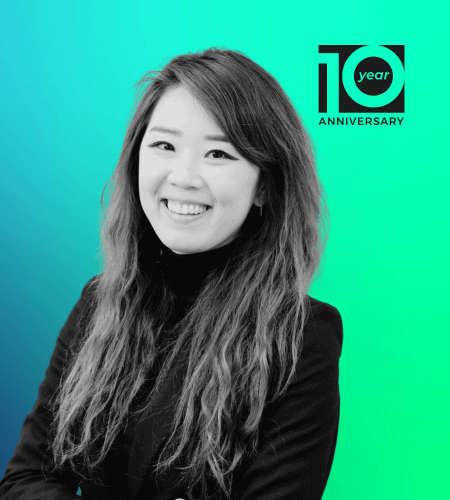 Case Study
Name: Soo-Min (Lucy) Jung
Role: Founder and CEO
Enterprise: Charco Neurotech
Location: Cambridge
Launch date: 2019
What does Charco Neurotech do?
The challenge
Parkinson's takes smiles away from people with Parkinson's by taking away control of their facial expressions
The solution
Non-invasive medical device which improves motor performance and the speed and fluidity of movement.
Milestone achievements
One of the most substantial achievements of Charco was to launch the CUE1 device for people with Parkinson's. The company currently has over 16,000 people on the waiting list from across the world. Also, securing a partnership with the European Parkinson's Disease Association and the Davis Phinney Foundation was a significant milestone.
More recently, receiving regulatory approval to sell our devices in the UK and EU was a big moment for us. CUE1 devices are in NHS trusts to evaluate its role to support in patient recovery.
What challenges have you faced as an entrepreneur?
The hardest thing about working in the healthcare space is the number of people on the waiting list. It can feel like we're not working fast enough to meet the needs of all the people suffering.
Balancing speed of getting the devices for people with Parkinson's to support their movement symptoms with quality and community support has been always a challenge. However, Charco stays strong to ensure we give tailored care.
More practically, I've found that strategic negotiations and dealmaking are hard work. While practice is certainly part of the solution, taking the time to develop my leadership skills has also been critical to consolidating my authority.
Ultimately, it's an exciting time, but we're staying focused and dedicated to improving the lives of people with Parkinson's. Charco's vision is to support people with Parkinson's to get their quality of life back which means our biggest commitment is to the safety and efficacy of our device.
"It's an exciting time, but we're staying focused and dedicated to improving the lives of people with Parkinson's."
How has the Enterprise Hub supported you?
The Enterprise Hub's Shott Scale Up Accelerator programme gave me an opportunity to develop myself as a leader of a fast growing start up to scale up. I now have a clearer direction, not only for myself as a business leader, but for the company – which has made a significant difference to how we work as a team.
What are your future ambitions for Charco Neurotech?
We have a waiting list of over 500 people who need our support, and we want to support our community as quickly as we can while ensuring the production of our device remains safe and consistent.
Together, we can accelerate engineering and technology innovation and help transform UK businesses to create real socia…
We work with a range of engineering and technology entrepreneurs to help them startup, spinout and scale-up. As a chari…